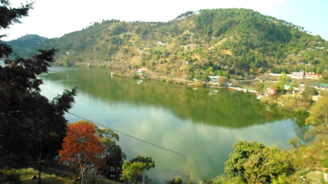 THE REASON
The story simply begins when you see the barren hills in the area of Bhimtal, District Nainital, Uttarakhand, in the central Himalaya, India. There are no options. They need greening. These are the hills that form the catchment area of the four surviving lakes. Three have dried up. The lakes symbolise the biodiversity of this region. The natural water source, mountain streams, have dried up and the lakes are under threat. In 2012, for the first time, a large part of the most famous lake, Bhimtal, dried up in summer. It is a portentous signal for the future. These lakes are also the economic support base for the local population. Historically, tourists have been drawn to view the beautiful lakes. Those visits, spread over a few months of the year, are the mainstay for income earning in this marginalised region.
SONGAON VILLAGE COUNCIL MEETING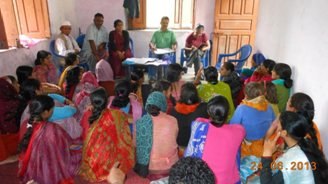 MEETING AT SONGAON
At one point at the start of our endeavour, we had the wonderful opportunity to meet nearly 15 women village chiefs. That is when we met Parvatidevi, Gram Pradhan (Village Chief) of Songaon. Over the following months, we developed a keen relationship and she is a source of inspiration and support. When we started discussing home-based participatory tree planting, she was the first to take the proactive steps ahead. She organised a meeting for us where we could meet and chat with the village members. In this meeting, we asked people what trees they would be willing to plant on their own land. The understanding was that we would help provide exactly what they wished for. A detailed list was drawn up in this meeting. The list was a judicious mix of mainly fodder trees. Many in the group said that they had never been asked which trees they wish to plant.
BILASPUR VILLAGE MEETING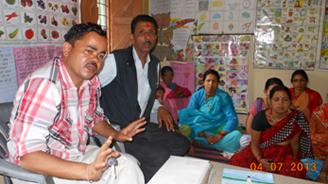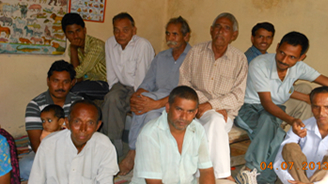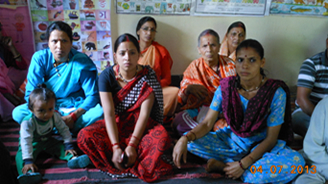 MEETING AT BILASPUR
A few days later, a local person, Chandan, who knows us, asked: "What about trees for our village?" We said, well, organise a village meeting for us and we can talk about it. The meeting was organised. And we met the next fantastic person, Jeevan Paladia, Gram Pradhan of Bilaspur. We also met a village elder, popularly known as Guruji, who is a repository of traditional knowledge and wisdom. The people's wish-list for trees to be planted at home was drawn up here as well – with the assurance that they would be provided. This village list had a mix of fodder, fruit and some trees that people said were becoming extinct and were traditional favourites.
In the case of village Thapaliya Mehragaon, a proper village meeting did not take place. So, we were unable to communicate our thoughts and intent to a group who would convey it to the community. It was decided that the village inhabitants would go to the local shop and get their wish-list noted down. This was sent to us and far exceeded the number (500 saplings) that we had said was allocated for each village. The list was then modified and made into a uniform equal allocation for all families. This village asked only for fruit trees. In the past, the people of Thapaliya Mehragaon had been greatly involved in large-scale oak planting around the Naukuchiatal lake, which is a huge oak forest now.
UNEXPECTED TURN OF EVENTS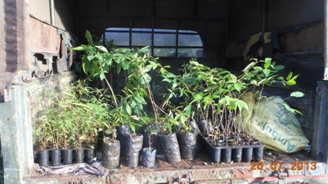 We had very good communication and response with and from the department of forests both at Dehradun (Dr. RBS Rawat) and at Nainital (Dr. Parag Dhakate). We also received the moral support of the ex-Chief Secretary of Uttarakhand (Mr. R. S. Tolia). The lists were discussed and we received verbal and written confirmation that all saplings would be provided. We had concerns, since there was a substantial demand for fruit trees, which do not technically fall under the jurisdiction of the forest department. We were reassured on all accounts, including that the department would themselves take care of the delivery to the nearest road-head of each village.
On the day of delivery, there was an unexpected turn of events. The first issue was that the saplings had not been segregated village-wise in the truck. One lot of saplings had already been randomly downloaded at the Songaon road-head. We rushed to catch the second point at Bilaspur. A few people were standing around and the village chief, Jeevan Paladia, was himself off-loading the saplings. We immediately heard murmurs. The saplings did not match the village list. As we enquired, the conversation became sharper. It was clear no one was going to plant these trees on their land – they had no use for them.
VILLAGE CHIEF, JEEVAN PALADIA, WONDERING WHAT TO DO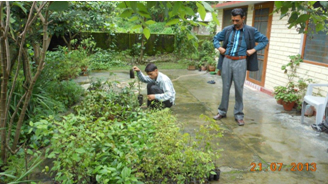 Jeevan Paladia was visibly concerned how this situation could be retrieved, if at all. He chatted with us for a while. It was decided that since saplings had come, they must not die. They must be planted. He assured us that they would be transported to a suitable site near his home, where they would all be planted on village land. It was his only alternative to ensure that the saplings would be cared for. We had no options to his plan of action.
THE SHOW MUST GO ON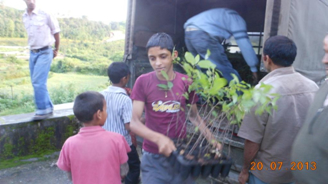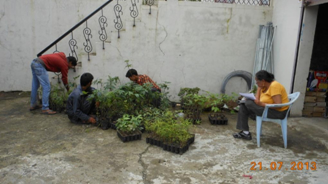 We proceeded for the off-loading at Thapaliya Mehragaon. Within minutes, we were subject to mockery, laughter and disdain. People repeatedly spoke of how "they had sent thorny species that we weed out from the forests". We struggled with what to do. A local person, a forest guard, said that if we could arrange to cover labour costs, he would arrange to have the planting done on the village forest land (van panchayat land). We said, we wished for children to do the planting and were assured that children would participate. The understanding was that on no account would they bother with the really useless thorny varieties but would plant the others. In the given situation, there were no other choices to retrieve the situation. Immediately, some of the kids, who had gathered around, started helping with the unloading. The spirit, in the circumstances, was noteworthy.
KNOWLEDGE GAINED ON THE WAY TUSARU TREE AND LEAVES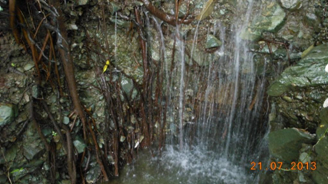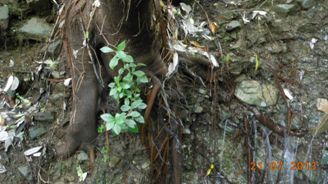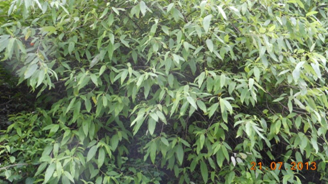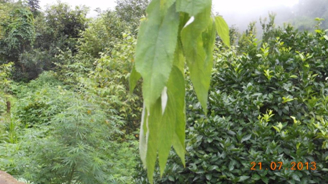 Jeevan Paladia insisted we visit his home to see the site where the saplings had been transported for planting. In an earlier conversation, he had mentioned that a particular tree species (Tusaru) helps to revive dried mountain streams. He used our visit as a chance to prove his point. This tree has been mentioned by various local persons when there is a conversation about reviving dead streams. Jeevan Paladia was happy to satisfy our curiosity and took us to the water source, where the tree and its hardy roots could be seen.
HAPPY TO PLANT TREES - THAPALIYA MEHRAGAON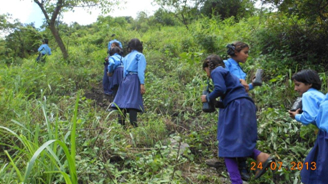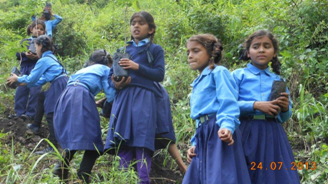 A few days later, Ramesh Brijwasi informed us that the pits for planting were ready at Thapaliya Mehragaon forest land. We made the visit immediately. Our first stop was the primary school in the village. We met the head, Ms. Kausalya, who we hoped had been informed of our arrival and intent. She had no clue, so we spent a while explaining our purpose and how we wished to take the children with us for planting. She readily agreed and lined up the children in class 4 & 5. We asked them if they were interested and they nodded and smiled in agreement. It was a great walk up to the van panchayat land with them.
THAPALIYA MEHRAGAON 'VRIKSH SENA' (TREE ARMY) TEAM 1 - Team leader Himanshu with Ayush, Manisha, Pooja, Deepika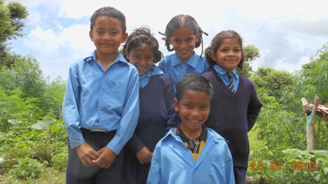 THAPALIYA MEHRAGAON 'VRIKSH SENA' (TREE ARMY) TEAM 2 – Team Leader Ashu with Chandra, Nirmala, Neeraj, Lata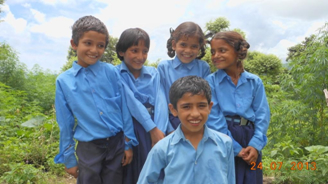 THAPALIYA MEHRAGAON 'VRIKSH SENA' (TREE ARMY) TEAM 3 – Team Leader Rashmi with Bhumika, Nisha, Himanshu (2!), Mehul
DEEPU, THE VILLAGE-APPOINTED TEACHER, WHO ACCOMPANIED THE CHILDREN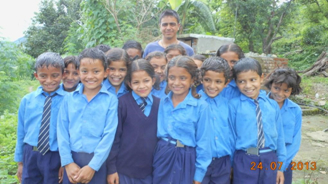 Before the planting, we had a chat with the children. We playfully asked them if they would like to form a 'Vriksh Sena'. Their response was immediate and excited. So we told them that they should have three teams, choose their own leaders and form their own teams. They really enjoyed the process of democratic decision-making and took it very seriously. They all went into a huddle. Within minutes, the groups were formed and leaders identified. We noticed a clear gender issue – all girls in one group, all boys in another. So, we mentioned it to them and said it was not a good idea. Off they went again and re-formed balanced groups quite easily and quickly.
NAMING THE TREES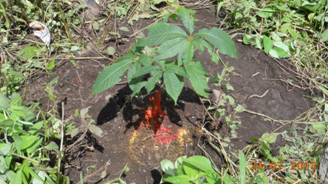 The children really enjoyed the idea of naming the saplings and performing a traditional ritual around each of them. It was cute to hear the names – probably that of their best friends…Babita, Ayush, Bhumika, Mehul…
KEDAR, ONE OF WHO DUG THE PITS, DISTRIBUTING SWEETS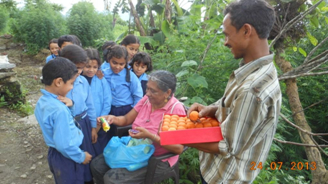 THE TAKE-AWAY SURPRISE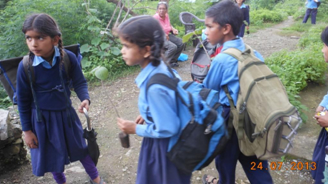 As we wound up and started saying our byes, we saw some of the children trooping towards where some saplings were still stored. They just picked up one or two and started going home. We asked them, what is this, why are you carrying these, where are you taking them, the planting is done…They replied, these are for home. We said, but the elders had said all these saplings are of no use. That is why we brought them here to be planted. What will you tell them at home? One child promptly replied, "A tree is a tree…"
SCHOOL CHILDREN PLANT SAPLINGS FOR BILASPUR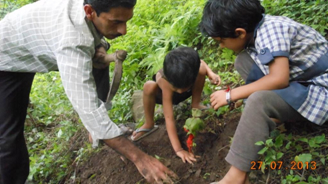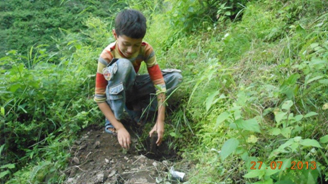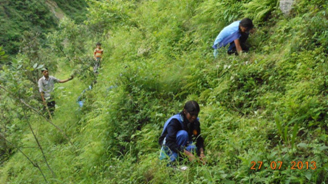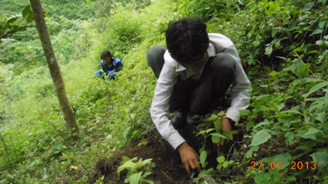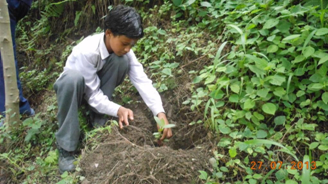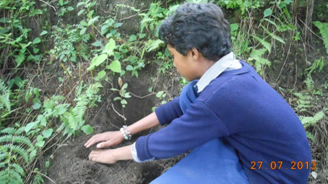 A few days later, Jeevan Paladia said he was ready to have the saplings planted for Bilaspur. No school visit was planned but he was confident of 'catching them on the way home from school'. He managed to do that in his capacity of Gram Pradhan. We had no opportunity to prime the children or interact with each of them. They took the saplings, did what was to be done and went their way.
THE SAVIOUR – PURANCHANDRA JOSHI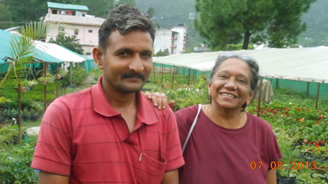 Meanwhile, Jeevan Paladia said, to save face with the community, we should try and get at least some of the promised saplings. There were no two questions about that. Next day, he called us in the midst of the flurry & hurry of a Gram Pradhan on the move. He was calling from a nursery owned by Puranchandra Joshi, who said he could arrange for everything.
The meeting with Puran chalked another new path. His first statement was: "You see, the problem is, all our streams have dried up, we have to revive them…" Please watch him in a video at: http://www.youtube.com/watch?v=xi_29PVvLjY
SAPNA NURSERY, BHIMTAL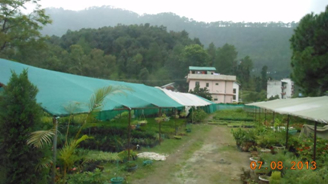 We discussed our entire string of events with Puran. He had a lot of pointed comments and opinion about various issues. Through this conversation we learnt, he is not only a nursery owner and environmentalist in his own right but also a journalist. He brings out a tabloid from the nearest big city, Haldwani. So, in effect, Puran is also Editor of 'Warning Post'.
Puran was confident he would arrange for the missing saplings from a good resource about 50 kms away – a person he termed as 'Guruji'. The list was with Puran and we awaited news. When the saplings arrived, he called and we rushed. Puran was experiencing what we had already experienced. Guruji had been unable to provide the wish-list. Puran got into a spin contacting people far and near to access the maximum possible.
SECOND DELIVERY ROUND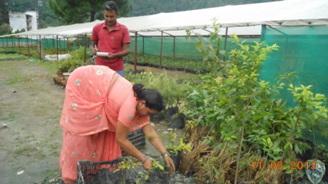 Though Puran did his best, he could not get everything. There was a big discussion about how we need to access the seeds, so that he can start growing the saplings and be ready for the next monsoon. The associated issue being to track the botanical names of these fodder species that the village community is so confident about. These are not easily available, are on their way to becoming extinct or are becoming 'replacement' species because of climate change with warmer weather than before.
On the aside: At the time of the first delivery, Parvatidevi, of Songaon, was very upset with what had come on the truck. Don't miss what she has to say at: http://www.youtube.com/watch?v=6Nx5ZyAH2Bc.
She was sceptical of this second round. The last time, she had gathered the whole group in the village for the sapling arrival and had to cancel it. She was not willing to go through it again. She visited the nursery to see what had come, what was missing and noted down the replacements.
SORTING AND LOADING OF SECOND ROUND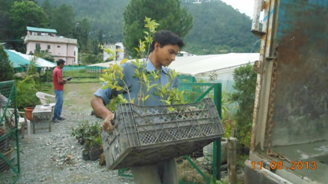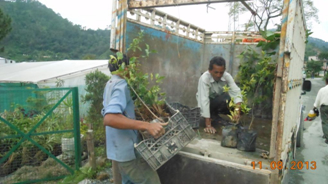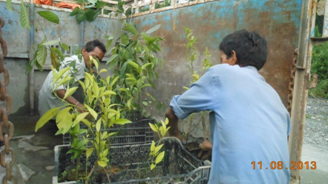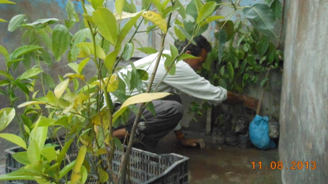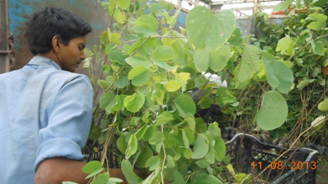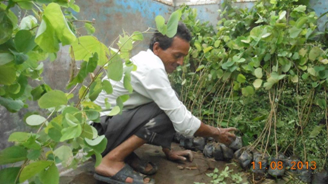 Puran and his staff took great care to segregate and load the saplings correctly.
THE LONE WARRIOR – BHASKAR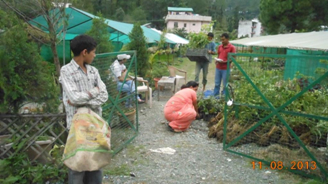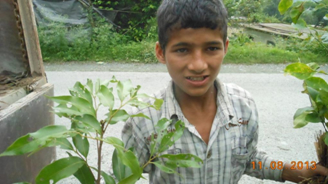 While the loading was being done, we noticed a little boy watching everything with great interest. It turned out he was from Songaon, had come nearabouts for some personal work, knew saplings would be loaded up here and came to watch – maybe with the hope of getting a lift home. Bhaskar turned out to be the lone warrior of the day. He helped load and unload saplings not only at his own village, Songaon. Later, he happily proceeded to Bilaspur to do his two bit there as well.
SECOND ROUND ARRIVES AT SONGAON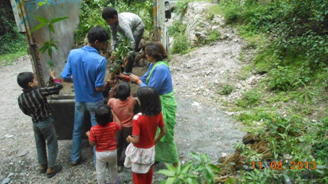 Under the supervision of Parvatidevi, children started trooping down to pick up the saplings at Songaon.
SONGAON LITTLE VRIKSH SENA: (right to left) Chitra, Bhumika, Manish, Priyanshu, Bhaskar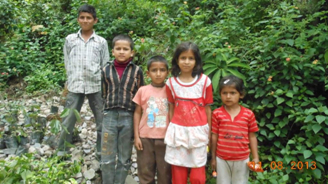 SONGAON OLDER VRIKSH SENA: (right to left) Harshit, Chandraprakash, Suresh, Neeraj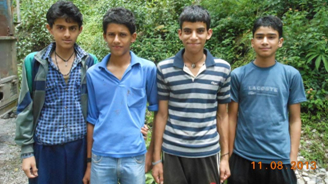 Though it was not an occasion to have a long discussion with the children, these two groups were happy to form a Vriksh Sena. The older boys thought it was a great term and are looking forward to what is in store for them to do.
LONE WARRIOR AND DRIVER AT BILASPUR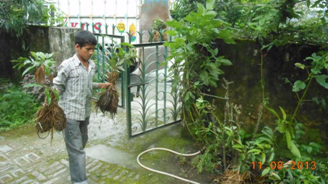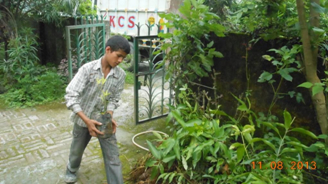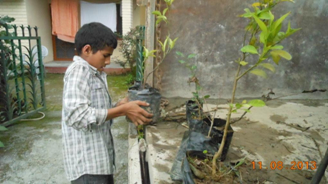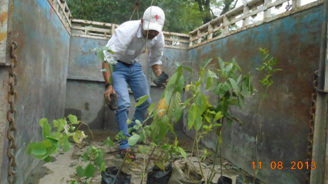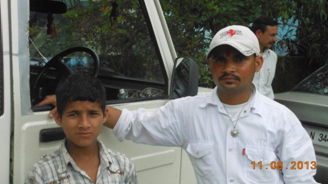 BILASPUR SECOND ROUND
There was no one when we arrived at Bilaspur. Bhaskar and the driver, Kailash, did all the unloading between them. We had a chat with Jeevan Paladia and he assured us that the saplings would be handed over to the concerned people.
MANY GENERATIONS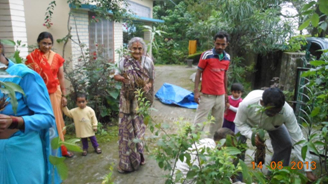 ALL OK?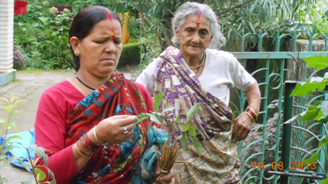 FOR THE GRANDCHILDREN?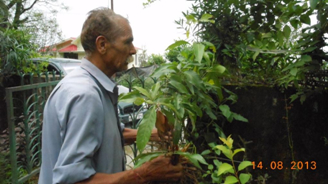 I HAVE A NEW BABY!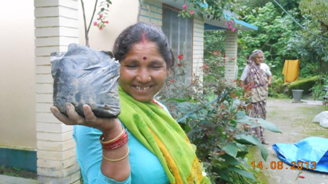 The children were missing but the saplings were handed over at Bilaspur under the supervision of Jeevan Paladia. The elders and women were very intense and happy.
TASK AHEAD
The endeavour to green the catchment area of the lakes cannot stop. 1628 saplings have been planted in the pilot phase in three villages. There is a clear set of lessons learnt. In the coming weeks and months, each of them will be addressed and will be the basis for the strategy in the next phase. The community will be strengthened to effectively communicate with the establishment. Community-driven processes will be created to fulfil these demands within the system in a participatory spirit. Government plans and funds exist for exactly these purposes. They must and will be utilised just so.
LESSONS LEARNT IN PILOT PHASE COVERING THREE VILLAGES IN BLOCK BHIMTAL, DISTRICT NAINITAL, UTTARAKHAND, INDIA
URGENCY REGARDING PROTECTING FOUR LAKES IN BHIMTAL AREA
The Department of Forests, big and small NGOs, Van Panchayats (Forest Councils) have been planting trees in this area. Even so, there are large treeless tracts around the area of the Bhimtal lakes
It is important to survey the reasons
This should be done by the Department of Forests and the Ministry of Environment & Forests
The study should cover local information directly from residents of the villages, NGOs working in the area, forest officials & functionaries, various Panchayati Raj Institutions (village administration) officials / workers
A well-collated summary of this information should be shared with each gram sabha / panchayat accompanied by sessions for action-to-be-taken. Women, youth, children must be engaged in these sessions.
LOCAL LEADERS AND KNOWLEDGE RESOURCES
A good gram sabha / panchayat leader has an immediate impact on the level and quality of engagement with the community.
In the absence of receiving the right responses to community wishes, local leaders can easily slip into a let's-finish-with-it attitude. For the motivators, it is not possible to contend this stand when the delivery has been wanting.
It is important to develop a list for creating a network of proactive leaders, specially women, at the gram sabha level.
This is particularly important in hilly areas where officials / workers are unable to reach their designated work areas regularly. The gram sabha / panchayat leaders are the only workable link for sustained engagement and activity.
Since these are elected leaders, the process of updating the network list has to be continuous.
Popular committed and active gram sabha / panchayat leaders can easily slip into arbitrary and adhoc decision-making without being questioned. This directly impacts the 'how' of any implementation process. Such leaders should be sensitized for strategic thinking through training programmes because they wield tremendous authority and can cause long-lasting change.
The department of forest is well-advised to think of developing groups of local thinkers at the block level and conduct regular 'goshtis' (discussions) with them. These local resources are a great bank of wisdom, innovative thinking, resolution-oriented responses. All of which can greatly help in further spreading good thinking in the community and help the department of forests to achieve various goals.
DISMANTLING THE BRITISH RAJ SYNDROME IN THE DEPARTMENT OF FOREST AND MOVING AHEAD WITH BEHAVIOUR CHANGE
The total disconnect of the Department of Forests with people is very deep-rooted and can be overcome and resolved only with intensive awareness-raising, sensitization and exposure trainings for behaviour change in forest officials and workers. The aim and objectives of these trainings should be clearly defined in the following context:
a) Make monthly meetings of the forest officials at the block level mandatory. These meetings should focus on annual plans developed by gram sabhas / panchayats in discussions with the forest officials that include the CCF and concerned DFOs. The build-up should be towards planting in each monsoon season.
b) Fulfilling the need for very large nurseries that provide 1-2 year old plantlings of broad-leaved trees, the species of which should be decided in consensus between the community and forestry scientists.
c) Shifting from concepts of large-scale plantations on thousand of acres to developing micro ranges around each village.
d) Mapping the areas of dead or dying 'naulas' in each village with community inputs and developing plans for their revival with plantations around them in consultation with specialists. Local knowledge about appropriate trees for these mountains stream areas should not be taken lightly or brushed aside and be thoroughly researched and investigated.
e) The concept of dual-purpose trees needs to be positioned firmly. The choice of trees must serve the interests of both the community and the environment. This is in line with the saying, 'A forest that pays, stays'.
f) Further to the concept of dual-purpose trees and as part of holistic planning, the Department of Forests should itself develop linkages with the departments of horticulture, medicinal plants and silk cultivation and create a single-window of opportunities for additional income earning. Local NGOs can be enlisted and out-sourced to assist the department of forests in this activity, specially for awareness-raising and TOT trainings.
g) Remove the brandishing of power symbols like red lights on cars, retinues of officials accompanying senior officials, etc. No participatory process can be achieved if these symbols that reflect the British Raj are maintained, since they create a divide with the community at the outset. This is totally non-conducive to any participatory process.
It cannot be overstated that the failure to deliver and respond to the people's wishes leads to a massive drop in credibility of the system, arbitrariness and adhoc resolution of adverse situations.
The grassroot people have a very poor opinion of the department of forest and refer to them disdainfully as 'they'.
Unless the department of forest completely rehauls its human resource, no forestry project will ever be successful. The department has to dismantle the British Raj inheritance of believing they 'own' the forests.
There has to be a major concerted effort to have mass growing of saplings of broad leaved and other fodder trees that people are interested in having. There can be no excuse that the nurseries of the department of forest do not have these saplings. Each and every species that is a common necessity must be made available.
There should be an internal investigation as to how and why unsuitable saplings, especially thorny varieties, are passed on without any thought by the department of forest.
The department of forest has to develop a mechanism of collecting local knowledge about tree species and their specific characteristics / uses and passing it on for research, study and implementation. The local people's adaptation to climate change by looking at species that were previously not common to a particular area needs extra and immediate attention.
CHILDREN FOR CHANGE
The United Nations and specifically UNICEF have propagated the concept of 'children for change'. Even in a complex issue like polio vaccinations among minority communities, children have been successful instruments of change in Uttar Pradesh. Children, as much as women, must be intrinsic elements of any forestry programme. The department of forest needs to think out of the box and promote schemes that engage with children and youth.
In the process of engaging with children, it is important to be innovative and not develop bureaucratic systems, as well as bring in an element of playfulness. This can be possible only if and when forest officials have an outgoing, proactive approach to engaging with children and not lecturing them in a top-down approach.
The fact that some children voluntarily picked up saplings to take home for planting proves the point that engaging with children is essential to long-term behaviour indicators for the environment.