Supported By :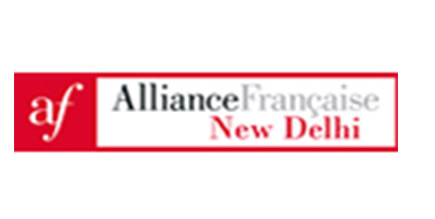 Festival Partners:
In Partnership with:
The kick-start to the festival was great. We had Aruna Vasudev for the keynote address. For those who do not know: Aruna is an acclaimed film historian, presently runs the highly regarded initiative for Asian cinema, NETPAC: (http://www.netpacasia.org) and has been awarded the highest culture award of France. She is known to be a fiction cinema expert and we wanted her to reflect upon the cinematic potential of documentaries. That is something dear to the principle festival in Germany, DOK Leipzig. It was heartening to hear what Aruna had to say. After all these years, it is increasingly fascinating for her to be engaged with documentary. As she said, Fiction is about someone's imagination, which of course is beautiful and will always have a place…but documentary is about the real world, real people…and it is very exciting to be in that real world and learn about different stories in far-flung places. On her return to Delhi, Aruna surprised us with a great write-up in the niche daily newspaper, Asian Age: http://dc.asianage.com/india/over-hills-and-far-away-film-festival-remember-362.
Thanks to the Embassy of Switzerland, we had Fernand Melgar, director of 'Special Flight' with us. This enabled great sessions with Fernand. We of course had the usual Q &A after his film screening, which was the opening film.
Additionally, we had the Film-maker Evening with Fernand as well. There was more than a nip in the air in Naukuchiatal, District Nainital, Uttarakhand, that day. We organized a bonfire and the shadow play of flames and artificial lights was a perfect backdrop. Everyone had a chance to chat with Fernand and understand his creativity, ethics, choices, passion for human rights themes, personal motivations, his wife's inspirational role…and more…The feedback forms rave about this evening.
After the first edition, many people told us that it is great to have films come in from outside…but what about Indian films and film-makers? We really thought a lot about this and created a 'Special Space' where Indian films could be presented. It was wonderful to have national and international award-winner, Nandan Saxena, with us. (Unfortunately, Kavita Behl, his partner and wife, could not join us.) This has been a great start because everyone really appreciated the idea of 'Special Space' and Nandan's session with a screening of 'Candles in the Wind' was a great success. His own deliberations and the audience discussions around that were intense and we are truly honoured he was with us.
We also had a great start to the DOC Debate. Again, a slightly chilly night sky, the lake as a backdrop, and intense chatting, questioning, ruminating…about the choices film-makers make, how far we can go when we intrude into the lives of people, what it means to the protagonists…and to the film-makers themselves…The beginning itself was so intense, no one thought of taking pictures that evening! So, alas, we have none…what a pity…
As we warm up for the next edition, theme ideas for the next DOC Debate are welcome…so, do write in.
With our commitment to the region where the DOK Leipzig Lake Festival is positioned, we had programmed an Uttarakhand Day. Unfortunately, it did not evolve as we had wished and there are a lot of lessons learnt in that. We need to work much harder on this. Having said that, we did have: Dr. Girija Pande- Registrar, Uttarakhand Open University and Kamal Joshi-Photographer who presented the fifth of the legendary Askot-Arakot Himalayan Expedition across 1100 kms; two young Uttarakhandi film-makers and a Himjoli stall outside that was selling products made by local people under the aegis of various NGOs.
Rupanjita Bisht and Apoorv Pandey, the film-makers, had the opportunity to screen one of their fund-raising films. This was followed by a brilliant interaction between them and Fernand Melgar on storytelling techniques. It reminded us of an initiative with Iikka Vehkalahti, 'Tell It Better', where we made our first tentative steps to change how NGO film stories are told in film.
We were also enchanted with a great cultural contribution by Bharatnatyam dancer, Sneha Chakradhar and Sufi singer, Dhruv Sangari. They brought for us a special performance, 'Baaraa Maasaa", depicting the seasons of the year. The audience was enthralled. Our special thanks to Dr. Ashok Chakradhar, who specially wrote the lyrics for the composition. Mr. Mahendera Verma, owner of The Lake Resort, said there had nothing so beautiful had ever been performed in this area before!
The meaningful breakthrough was to have Shubra Gupta of the mainstream national daily newspaper, Indian Express, with us. It is exceptional that a mainstream film critic gives so much consideration to the documentary, which largely receives step-motherly glances. She worked for quite a long time to do an overview of the documentary scenario in India. We are so pleased she joined us during the festival. Her Sunday magazine write-up 'Cinema Verite' has drawn attention and is bound to have impact in time. We hope she will devote more time and space to the documentary. Read her article at: http://epaper.indianexpress.com/267421/Eye-The-Sunday-Express-Magazine/04-May-2014#dual/8/1
We also had Sanjay Wadhwa from Mumbai, representing the prestigious Deep Focus journal, which he has helped revive. Sanjay has committed himself to devoting more and regular space for the documentary in the journal and that is great news.
This year, we were also joined by a colleague from DOK Leipzig, Mila Kiratzova. It was an opportunity for DOK Leipzig in Germany to later receive a first-hand report of the festival at Naukuchiatal. Mila had a chance to interact personally with all the guests and participate in the formal and informal discussions. It was a pleasure to have her in our midst.
In the midst of all this, we had an amazing surprise treat. A stylish, perfectly orchestrated dinner very graciously hosted by Sajid Dehlvi at his hill abode in Naukuchiatal. No festival guest is going to forget that beautiful evening. Thank you so much, Sajid and friends, for your warmth and hospitality.
Every film that was screened has attracted super-adjective praises, so it is difficult to state which film was most liked. The full credit for this fantastic collection goes entirely to the DOK Leipzig team in Germany: Claas Danielsen, Dr. Grit Lemke, Lina Dinkla and Angela Pacher. We can never say enough thanks to the precise attention in their efforts.
What has heartened us most is that we had 'repeat guests' from the first edition…and first-timers, who have promised to come back and bring others with them. It is wonderful to see the community grow...It is difficult to name all members of the Primary Support Group who have helped us along. Even so, we would specially like to thank P. D. Valson, our old colleague and dear friend, who oversees the entire technical management of the screening. Arul Harris at AV Workshop, who provided the system, has been extremely kind with discounted rates. Deepti DCunha, Revati Laul, Milin Kapoor, Amina Shervani, Chitra Narayanan left no stone unturned in spreading the word. Shivendra Sharma made sure our FB page went up atleast somewhat in time!
Even by the second edition, one thing is absolutely clear: This festival is not about exclusivity and a closed group of doc film-makers. It is drawing people from different walks of life. They are coming to a non-metropolitan location, viewing and getting enamoured with docs. They are becoming devoted documentary watchers and enjoying the intellectual vigour in the issues being debated over extended evenings. This gladdens us no end.
Needless to say, the location gives the festival its energy. It would be nowhere without the ambience of The Lake Resort set against the Naukuchia Lake with the surrounding grand oak forest…and imbued with the gracious charm of Mahendera Verma, Arjun Verma and the untiring efforts of their entire staff.
So here we are…happy with what is past…and gearing up for what is to come! Do watch out for news via email and FB. We look forward to your joining the community and supporting it in anyway you can.